Ntolmadakia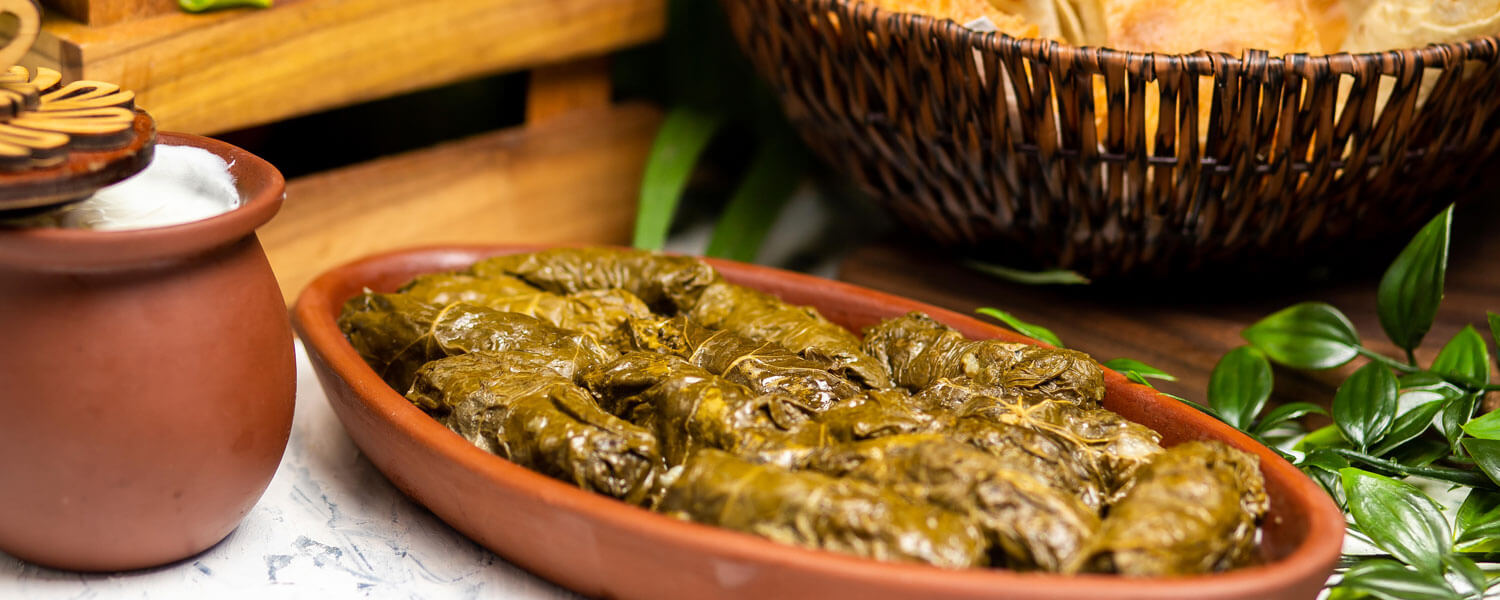 250 gr. vine leaves, tender
2 bunches of onions, cut into very thin slices
1 onion, large
2 pc. garlic, finely chopped
250 ml olive oil
400 gr. Carolina rice
400 gr. water
1/2 bunch of coliander, finely chopped
1/2 bunch dill, finely chopped
1 bunch of mint, chopped
lime zest, from 2 limes
salt
pepper, freshly ground
lemon juice, from 1 1/2 – 2 lemons
4-5 slices of lemon
IMPLEMENTATION
If you have fresh vine leaves, boil them for 2-3 minutes in boiling, salted water, and then take them out with a slotted spoon in a bowl of cold water. When we scald them all, we drain them in a colander and remove the stalks and any thick nerves that some of our leaves may have with a sharp knife. If we have our own vine leaves in brine, frozen or canned, we take them out of the jar or bag, put them in a colander, rinse them with cold water and let them drain well.
For the filling
In a saucepan with a lid, over medium to high heat, add the spring onion, onion and garlic together with the  Olive oil (125 ml). Let them caramelize and soften for about 10 minutes and lose their volume. Then add the rice and sauté for 3-4 minutes. Add water to the pot, stir, lower the heat and simmer for about 5 minutes (we want the rice to absorb the water). When it is ready, remove from the heat and let it rest for at least 10 minutes. Then add to the pot with the rice, coriander, dill, mint, lime zest, salt and pepper and mix.
For assembly (or Putting Together)
Spread the bottom of a saucepan (22 cm.) With 4-5 vine leaves (use the torn and broken leaves), slices and lemon juice. We take the vine leaves one by one, in our palm or in cutting wood, (with the nerves upwards and the shiny side downwards), we put in the center 1 tbsp. filling, fold the sides inwards and close by rolling the dolma. Place the dolmadas next to each other, in a row, in the pot. When we lay the first row, we continue with the second and third if necessary, until we finish them all. Pour the remaining olive oil into the pot, cover – place a plate on top of the dolmadas (so that they do not dissolve during cooking) and add warm or hot water, until all are well covered. Simmer for about 40-50 minutes. When they are ready, remove them from the heat and leave them to cool a bit, in the pot.